The Big Coronation Picnic on Sunday 7 May 2023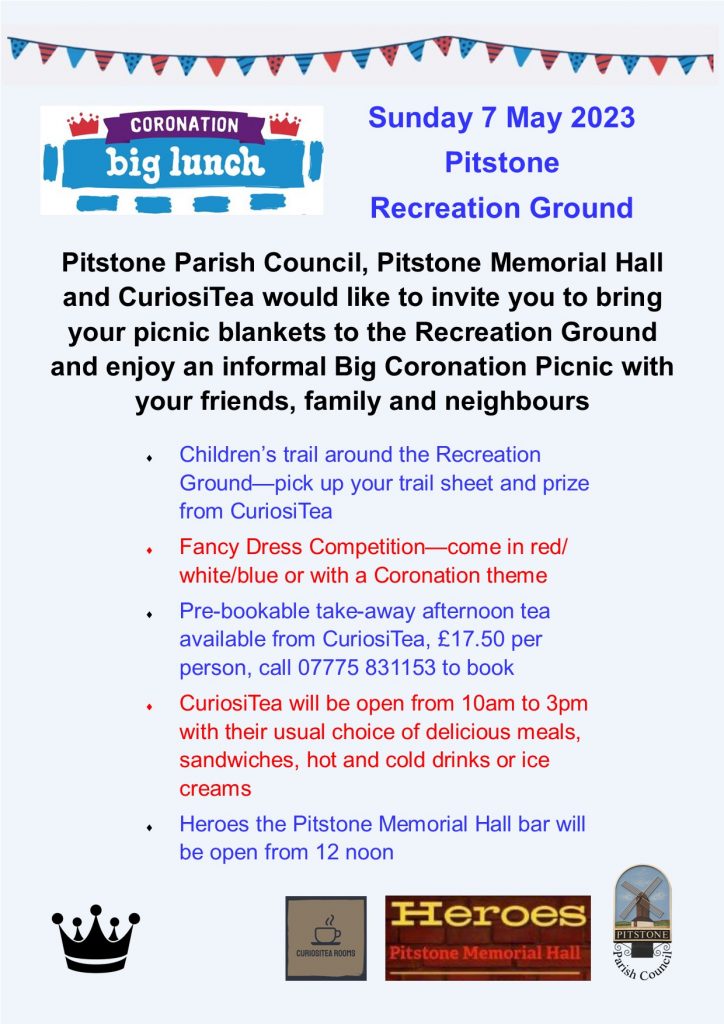 The Parish Council, the Memorial Hall Charity and CuriosiTea would jointly like to invite you to the Big Coronation Picnic on Sunday 7 May on Pitstone Recreation Ground. This is part of the Big Coronation Lunch initiative and is designed to make it easier for residents to meet up without having to organise street closures and street parties. Bring your picnic blankets to the Recreation Ground and enjoy an informal meet up with your friends, family and neighbours. The bunting will be up and your children can enjoy the play equipment, skate park and ball court whilst there, helping to keep them entertained. The parish council are providing a Coronation Trail for children – simply pick up your trail sheet from CuriosiTea and return the completed sheet to them to claim your prize – and the Memorial Hall are holding a fancy dress competition, so encourage your children to come dressed in red/white/blue or with a Coronation theme, there will be a prize for the winners.
CuriosiTea are taking orders for pre-bookable take-away Coronation Afternoon Teas, so you don't even have to pack a picnic. £17.50 per person. Call 07775 831153 to book. See poster below. They will also be open from 10am to 3pm serving their usual delicious menu of sandwiches, cakes, ice creams, hot & cold drinks etc.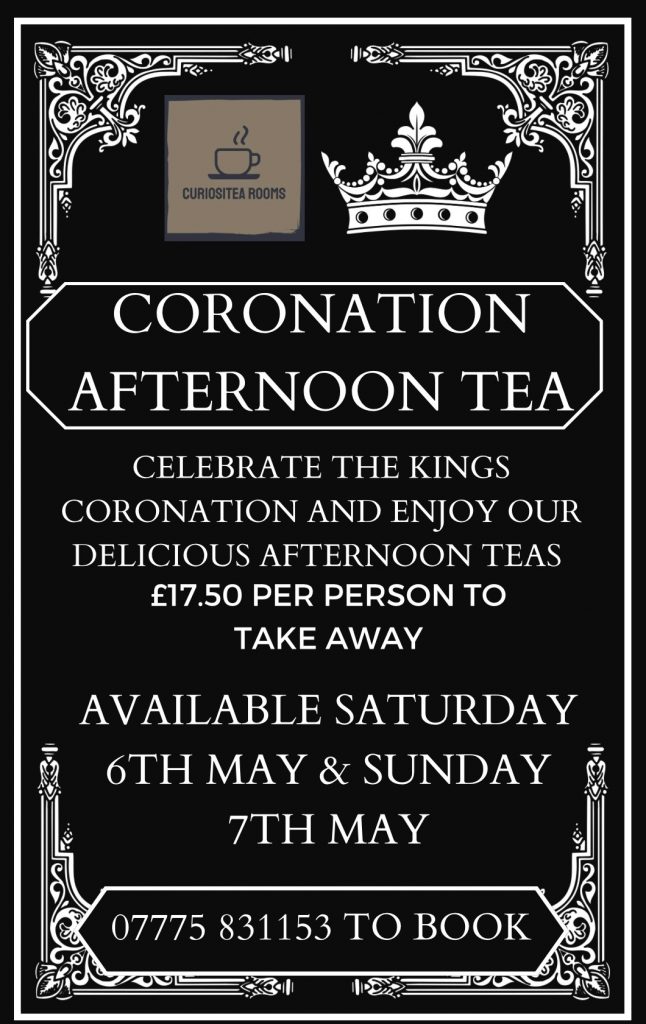 If you fancy something alcoholic, the new Memorial Hall bar, Heroes, will be open from 12 noon.
Please do pop into both CuriosiTea and Heroes to support them if you can.
Street Parties / Closures
If you do wish to organise a Street Party, please follow this link to the Buckinghamshire Council page https://www.buckinghamshire.gov.uk/community-and-safety/celebrating-his-majesty-king-charles-iiis-coronation/ to find out what you need to do to organise a street closure. Please note that all applications have to be submitted by 7 April 2023.
Activities and Recipes
For a range of activities to make and bake with your kids and family ahead of the event, from crown hats to bunting, from invitations to flags, and a host of recipes from top chefs, visit https://www.edenprojectcommunities.com/
Big Help Out
The other initiative being promoted by the King is the Big Help Out, encouraging everyone to get involved in volunteering and put back into their local communities. In the run up to the Coronation, the Parish Council will be sending out a series of social media posts for different opportunities that you might like to consider. You can also visit this page of our website: https://pitstone.co.uk/ppcinfo/vacancies-and-employment/ where you'll find the latest downloadable sheet of opportunities that we are aware of.
There are a variety of roles, and types of opportunity, so there is bound to be something to suit everyone. You might like to consider: helping at Ford End Watermill, helping to man St Mary's Church in Pitstone on open days, volunteering at the Heritage Museum in Pitstone, acting as a guide at Pitstone Windmill open days, having fun with the young people at Pitstone youth café, driving residents to medical appointments with the Community Car Scheme, lending a hand at Windmill Pre-School, becoming a Trustee of Pitstone Memorial Hall or the Towns Land Charity, or maybe joining the rota at Beacon Villages Community Library.
We will keep this page updated, so keep checking back for the latest information.
We wish everyone a very happy celebration.