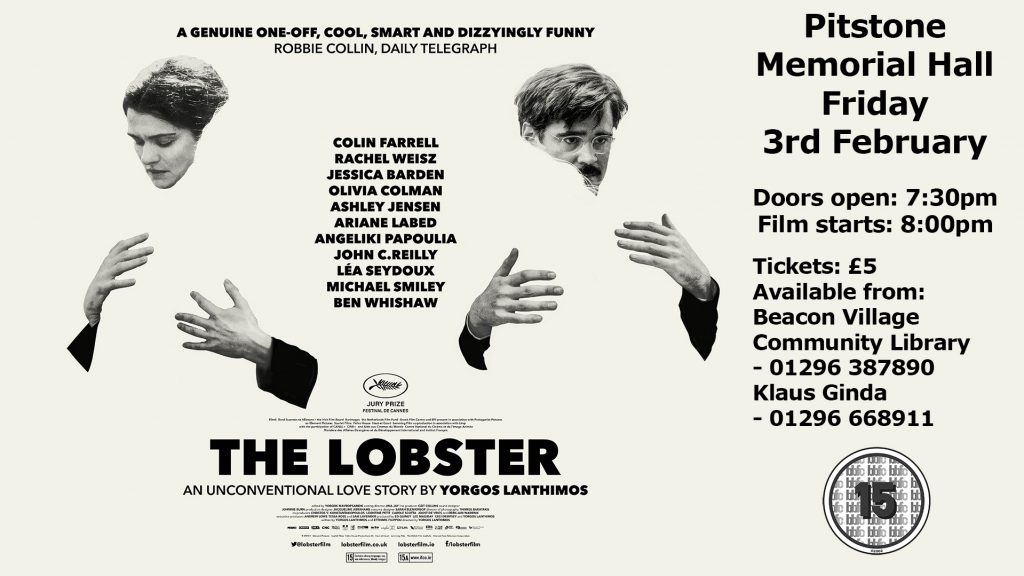 Certificate: 15
Doors open: 7:30pm
Film Start: 8:00pm
Tickets available from:
– Beacon Villages Community Library – 01296 387890
– Klaus Ginda – 01296 668911
or on the door
Drinks and snacks available from the Social Club Bar
This month we have another film from our list of requests. We look forward to seeing you there.
The Lobster stars Colin Farrell, Rachel Weisz and Olivia Colman. It won the Jury Prize at the 2015 Cannes film festival, along with a Best Supporting Actress award for Olivia Colman in the 2015 British Independent Film awards. It is nominated in the best screenplay section of the 2017 Academy Awards.
An unconventional love story set in the near future where single people, according to the rules of The City, are arrested and transferred to The Hotel. There they are obliged to find a matching mate in 45 days. If they fail, they are transformed into an animal of their choosing and released into The Woods. A desperate Man (Colin Farrell) escapes from The Hotel to The Woods where The Loners live and falls in love, although it is against their rules.
Date: 03/02/2017
Venue: Pitstone Memorial Hall
Contact: Klaus GInda
Phone: 01296 668911
email: 
Website: