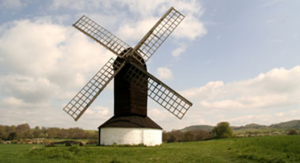 This is one of the most imposing and important features in Pitstone. It is one of the oldest surviving post mills in the country and the whole top timber part of the windmill could turn, so the sails could face the wind. The date 1627 is carved on its framework. An 1824 map shows a road running from the present windmill car park, passing the mill, the Vicarage Road, Pitstone. In 1874, Earl Brownlow of Ashridge, bought the mill and leased it to the Hawkins family of Pitstone Green Farm.
In 1902, a violent storm caused sufficient damage to stop any further milling and make the mill uneconomic to repair. With the break-up of the Ashridge estate in the 1920's, the mill passed to the ownership of the Hawkins family in 1924. By 1937, vandalism and bad weather had necessitated heavy expenditure merely to safeguard the fabric, so the windmill was offered to the National Trust. The Trust immediately carried out a first aid operation but little further happened until the Pitstone Windmill Restoration Committee was formed in 1963. It launched an appeal for funds for material (Labour was given voluntarily) and in 1970 the committee successfully completed the restoration work to gain a "Countryside in 1970" award.
A team of volunteers now open the windmill to the public every Sunday afternoon during June, July and August. The car park can be accessed on the B488 Upper Icknield Way and there are a variety of footpaths that lead to the windmill from the village.