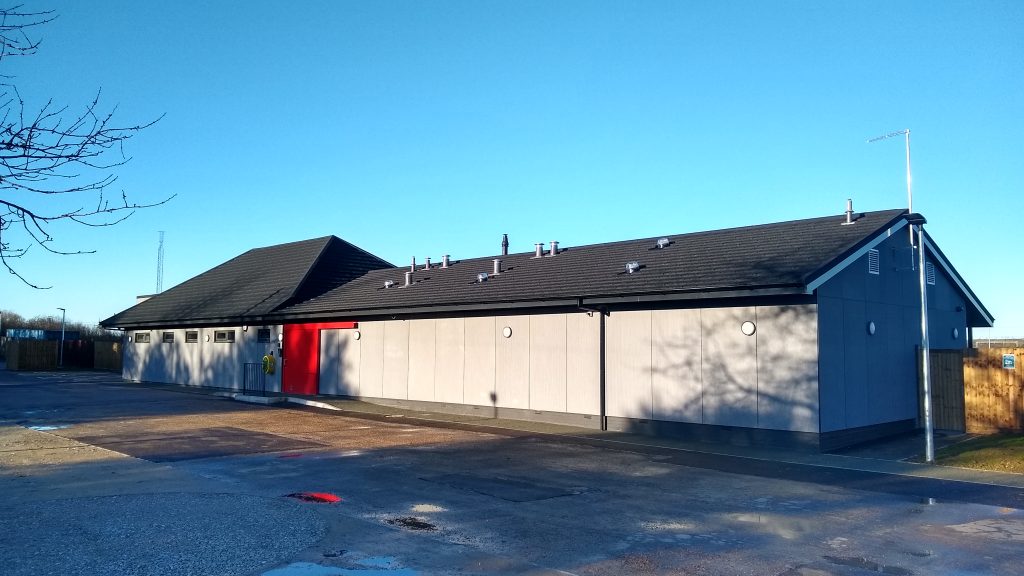 These premises on the Marsworth Road (almost opposite the Westfield Road junction) sit on the site of the old Castle Cement work force football pitch. The original Pavilion and two football pitches were provided to the village as part of the leisure facilities agreement with the developers of the Castlemead housing estate. These premises are owned by Pitstone Parish Council.
The complete redevelopment of the site was finished in December 2020. We now have a new function room called The Platinum Room (approximately 11 x 7.5m), kitchen, and changing facilities as well as the two football pitches and training area for hire.
We have a premises license which allows the sale of alcohol, by hirers of the Pavilion, for example to provide after match refreshments or cater for small wedding receptions.
What's On at Pitstone Pavilion
Bookings
The documents, to which you have to agree, can be found here:
https://pitstone.co.uk/ppcinfo/sport-and-recreation/
To make a booking or view availability click here
Hire Fees (effective 1/5/22)
The Platinum Room (including use of the kitchen) is available for:
£20.75 per hour (including VAT) for ad-hoc hires, one off events and hires by people that are not resident in Pitstone (General Hire rate).
£16.80 per hour (including VAT) for Pitstone residents or local clubs and classes (Village rate).
£12.30 per hour (including VAT) for regular hirers that make in excess of 17 bookings per year (Regular user rate).
Local charities and community groups who are unable to afford the above hire rates should contact the parish council who may be able to grant a discount.
Please note that other charges eg deposit or cleaning fees may apply. Please refer to our Terms and Conditions for full details.
If you are interested in hiring our kitchen, changing facilities or sports pitches please see the Terms and Conditions for details and contact parishclerk@pitstone.co.uk for further information.
The day-to-day management is handled by Pitstone Parish Council's Pavilion Committee, which consists of members of the Parish Council and co-opted members to represent all the leagues that play regularly at the site and the Ground Keeper.
Pitstone Pavilion, Marsworth Road, Pitstone, Leighton Buzzard LU7 9AP
Location on Google maps, click here: https://g.page/Pitstone-Pavilion?share
Google Plus Code: R9J2+2C Leighton Buzzard
What 3 Words Location: bugs-scrapping-numeral
Contact: Mrs Laurie Eagling