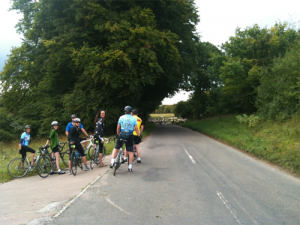 The (I)vinghoe Velos are a group of residents of the Buckinghamshire villages Ivinghoe and Pitstone who get together regularly for a bike ride. It is suitable for all fitness and equipment levels. The main rides are from the Rose and Crown Pub in Ivinghoe:
Saturday 10am Tea Ride, goes as fast as the slowest rider with regular 'stop and waits' along the route plus a tea and cake stop half way round. Usually back at the pub around 12.30pm. Everyone and all cycle styles welcome.
Sundays at 9.50am. A group ride averaging 13mph. Faster and slower riders welcome but these groups are self led. Returns to the pub around 12.15pm
Tuesdays at 7.30pm – the Pitstone Loonies – meets at the junction of Rushendon Furlong and Marsworth Road. A technical and challenging off-road ride for mountain bikers only. Lights essential during winter months.
Thursdays at 7.30pm – the Pitstone Puddlers – meets at the Marsworth Road/Vicarage Road roundabout for general trail riding. All abilities welcome. Lights essential during winter months.
Occasionally we arrange rides on other days including some off road adventures.
The focus is to support all members of the group to achieve what they want to from each and every ride and to have FUN.
We welcome ALL cyclists so please encourage friends from all over the area, the more the merrier. All rides will be published on the website,
Please visit the following website www.ivinghoevelos.org.uk or just turn up at one of the meeting points.
You can also subscribe to the mailing list by visiting the above web site and then you will be notified as soon as each new ride is posted.
If you are into social media, you will find (I)vinghoe Velos on Facebook (where you will also find updates for the mid-week rides) or you can follow them on Twitter @Vinghoevelos
You will get to see some of the stunning countryside around our village and the local areas and get fit at the same time, so do give it a try. Happy cycling!