To book our pavilion and recreation ground facilities please click on the link below:
To make a booking or view availability click here
There are a suite of documents, to which you have to agree, when placing a reservation for parish council facilities via Hallmaster. Please make sure you thoroughly read through the attached (scroll to bottom of page for attachments) before placing your reservation:
Pitstone Pavilion Hiring Agreement which includes the Standard Conditions of Hire & Special Conditions of Hire relating to our football pitches and changing village
Pitstone Pavilion Special Conditions of Hire arising from Covid-19
Pitstone Pavilion Covid Risk Assessment explaining the measures we have taken to ensure your safety
The Premises Licence for Pitstone Pavilion
The Premises Licence Summary for Pitstone Pavilion
Pavilion Health and Safety Policy
Pavilion Health and Safety Risk Assessment
Pavilion Fire Safety Policy
Pavilion Independent Fire Risk Assessment
Pavilion Emergency and Evacuation Plan
Children's Play
The parish council manages the three children's play areas in Pitstone located on the Recreation Ground, at Hever Close and on Windsor Road. All these facilities are free for you to enjoy. We aim to ensure:
there are safe and accessible places where all children and young people can play and socialise

that a range of accessible, rewarding and affordable recreation opportunities are provided
that the recreation opportunities reflect the needs and interests of the community
that the value to the community of the available public open space is maximised and
that the risk-benefit assessment of the facility concerned is favourable
Attached you will find copies of our Play Policy & Strategy, Local Play Audit and Risk Assessments for your information:
Play Policy & Strategy: pdf:play policy & strategy 2020 signed
Play Audit:pdf:play parish audit 2020 signe
Play Risk Benefit Assessments:pdf: play policy risk benefit assessment 2020 signed
Planning permission was obtained for an exciting new play space and the equipment on the Recreation Ground was completely replaced in 2020 following the purchase of the land by the Parish Council. An illustration of the new equipment is below: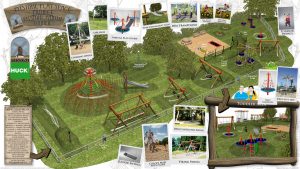 There is also a children's playground in Tun Furlong. This is currently managed by Bellway for a 24 month maintenance period and will pass into parish ownership in due course.
Multi-Use Ball Games Court
Nicholas King Homes will be constructing a family friendly multi-use ball games court on parish council owned land at the rear of the hall car park. Planning permission has already been granted. Replacement car parking will be provided adjacent to the current site and this will be adopted by the parish council. eta Spring 2021. This will be freely accessible for everyone to enjoy. An illustration is below: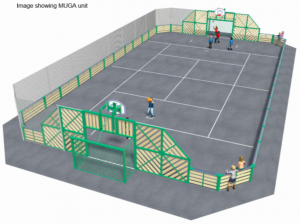 Skate Park
A concrete skate park will be procured and will eventually sit between the ball court and the play space. Tendering was postponed due to Covid-19 as it has been difficult to effectively engage with the young people of the village. Again, this will be free for you to enjoy. You can find out further details in the current projects section of this web site.
Football
The council owns and manages the pavilion on Marsworth Road which has two football pitches (one full sized and one junior). The pavilion was extended and modernised in 2020, and now provides a community room available for general hire, kitchen, parish office and changing village. This is the home site for the Pitstone & Ivinghoe Junior Football Club and the Pitstone & Ivinghoe United Football Club.
We also provide a full sized football pitch on Pitstone Recreation Ground which is the home site for the Pitstone, Ivinghoe and Cheddington United Football Club plus a number of the P&I Junior Football teams.
Both sites are currently operating at full capacity. Hire charges apply.
An open access full sized goal is provided in the kicking area opposite Hever Close playground, which is freely available for all to enjoy. The multi-use ball court on the recreation ground, eta Spring 2021, will also provide freely accessible football space.
Cricket
The village green / recreation ground is home to the Ivinghoe & Pitstone United Cricket Club who play matches and host training sessions throughout the cricket season.
Events
Pitstone Parish Council organises a number of events each year, such as Play Around the Parishes for 1-11 year olds. All events will be publicised in the events section of the web site, as well as through our other communication channels.
Community Groups, individuals and organisations can also hire our open spaces for events.  Please visit the Events and Open Space Policy attached for further information, charges and the application forms.

Privacy Notice For Hirers
We take the security of your personal information seriously. Please refer to the Privacy Notice available here: https://pitstone.co.uk/ppcinfo/gdpr-policies-how-we-look-after-your-data/ for information.