This page is being created to keep the residents of Pitstone updated with any advice and assistance that can be sourced during the current Coronavirus outbreak. The situation is changing daily, so we will do our best to keep everyone updated.
If you are a business, individual or group that can provide assistance to other members of the community during these difficult times, please let us know so that we can add your details to the information below.
Local food shops that can deliver
Masons stores
Delivery days Monday, Wednesday and Friday. Can deliver to Cheddington, Pitstone, Ivinghoe, Long Marston and Marsworth.
Shopping must be over £20 and can be paid for by either cash or card over the phone.
Orders to be placed on 07940227487
Grooms Farm Shop
Free local delivery service. Contact them via Instagram, Facebook, Email or their website, or telephone 01296 668326.
Meads Farm Shop
Please visit and shop where possible. If you are isolating / shielding Mead's can deliver and will be co-ordinating this with the local help groups, so please register with the Covid-19 support group.
Waterdene
Traditionally a trade supplier but able to deliver to the general public during the Covid-19 outbreak. Pack sizes are larger than you will find in the supermarket, so please check sizes carefully. Visit www.waterdenefoodservice.co.uk, select Home Delivery Registration, complete the form and send. You will then be emailed a password and account number which will allow you to log into the online shop and commence adding items to your Order Card. Select delivery date and check out. You will then receive an order confirmation.
Phoenix Managed Services
email: sales@phoenixmsl.co.uk telephone: 01296 660810. Free delivery to Pitstone homes for customers ordering over £50. Payment by bank transfer or card payment, no cash. Monday to Friday.
Local business that can deliver hot food
Haldi Indian Restaurant
Open to eat in, take away or delivery. Menu available here: http://thehaldipitstone.co.uk/haldimenu/#sec11 Telephone number: 01296 661223
Woodz Pizza
Open for deliveries and collections. Can deliver to your car if you can't go into the store. Orders via phone 01296 531520 Just Eat or Food App for payments.
Other local business where you can access help eg pharmacy / cleaning materials
Windmill Pharmacy in Ivinghoe is planning to remain open. They can deliver prescriptions to those that have already signed up to their delivery service.
K L Supplies Ltd, situated on the Pitstone Green Business Park, are suppliers of hygiene and catering products to trade, however during this outbreak they are also taking orders from members of the public (eg for toilet rolls, gloves and cleaning products). Please call 01296 662663 or email info@kls-services.co.uk to place an order. You can collect from their warehouse. They may be able to offer local delivery.
Almar (Tring) Ltd can take telephone/email orders and arrange free delivery to Pitstone, for stationery/paper etc to assist those working from home or undertaking school work from home. Please call 01442 823934 or email almar@almartring.com.
Foodbank – Do you need to access food?
Full information about the food bank can be found here:
In isolation or shielding & need help? Or can you offer to help?
On Facebook please visit "Covid-19 Mutual Support Group Pitstone" on https://www.facebook.com/groups/235466934256619/. This is a group of local volunteers that are co-ordinating assistance to make sure that no-one it Pitstone is left isolated or without support. They all live locally and are not a professional body. They can't give medical advice. The volunteers can offer assistance with collecting shopping, urgent supplies, prescription or just with a friendly phone call etc. You can offer to help or request help via that Facebook Group, or via the website details below, or via the telephone details below.
If you are offering to help, you can sign up by completing the short form available at http://pitstone.co.uk/helpers/ If you can't access the form, please call 01296 767311.
If you need help, you can phone the group on: 01296 767311 or complete the short form available at http://pitstone.co.uk/helprequest/
Bucks County Council have set up a new Community Support Hub which includes advice on how to stay safe when volunteering, or when accessing help: https://www.buckinghamshire.gov.uk/community-and-safety/coronavirus/ If you are a vulnerable or older person who is self-isolating and needs support, or anyone concerned about them, you can call Buckinghamshire Council using the numbers below.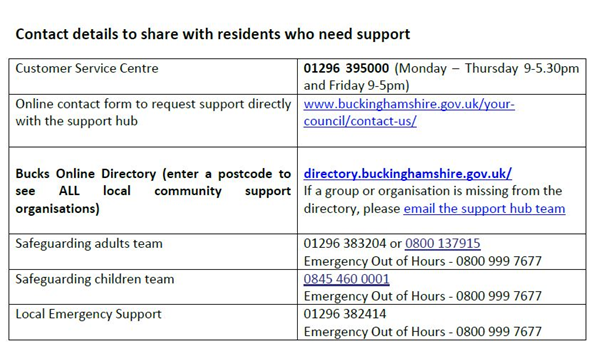 You can access advice about staying safe during this period from Neighbourhood Watch here: https://www.ourwatch.org.uk/sites/default/files/documents/2020-03/NW%20COVID-19%20Message%2018.03.20.pdf
Buckinghamshire Council has produced two posters that you can print and display by your door if you do not wish people to knock if you are self-isolating or high risk, available below:
Getting tested – lateral flow tests and covid infection tests
You can find out the latest information about who can access lateral flow tests and how to access covid tests via the Buckinghamshire Council website, link here: https://www.buckinghamshire.gov.uk/coronavirus/get-tested-for-covid-19/
Financial hardship – would you like to donate or do you need emergency help?
Pitstone Town Lands Charity are accepting financial donations from members of the public who wish to provide emergency assistance to Pitstone residents who are struggling due to the outbreak.

Donations please to: Bank Account: Pitstone Town Lands Charity Estate, Sort Code 55 70 10, Account Number 06512690.
If you require confirmation that your donation has gone through, please email kate.smethers@pitstone.email.

If you are in need, hardship or distress please visit the charity page on this website via this link to find out details of how they may be able to assist and find their contact details: http://pitstone.co.uk/localinfo/pitstone-town-lands-charity/
Williamson Trust are a local charity that provide a yearly payment to residents who are over the age of 65 years. If you are a Pitstone resident and have not registered with the Trust, please visit this page on our website to find out details and how to get in touch with them: http://pitstone.co.uk/localinfo/the-williamson-trust/
Heart of Bucks Coronavirus Response Appeal has been set up by the Buckinghamshire Council to provide assistance to Buckinghamshire households most affected by the pandemic and, as a result, are struggling to make essential household payments, living through a short term crisis or experiencing hardship. To find out how to make donations, or how to access help, please click the link: https://www.totalgiving.co.uk/appeal/coronavirus-response-appeal
Money Saving Expert website are keeping up-to-date advice and information in case you are experiencing financial difficulties as a result of the virus. Please visit: https://www.moneysavingexpert.com/
Look after your mental and emotional health
Advice for your local business
Trustworthy sources of information
Parish Council delivered services
Youth cafe – the Pitstone youth cafe will remain closed for the present. We hope to re-open, in some form, after Easter.
Annual Assembly – The Annual Assembly had to be cancelled in 2020. The full report and accounts was published in PPP and on our website. A physical meeting in 2021 may also be affected by covid guidance, we will keep residents updated.
Council and Committee Meetings – Will now all take place remotely. Residents will be able to log in to meetings via their laptop, tablet or smartphone and will also be able to dial in from a standard phone. Details will be published online with each agenda.
Allotments – if you have an allotment tenancy with the parish council, please refer to the recent guidance issued by Pitstone Allotment Association.
Playgrounds – Our playgrounds are all open. Please observe social distancing guidelines whilst playing and refer to the full details on the posters available on each gate regarding use of hand sanitiser, not eating/drinking etc.
Litter bins and dog bins – Both are being regularly emptied by our staff and contractors. Please don't litter on the floor. Please bag any used PPE.
Open Space – such as the village green/recreation ground and local green space by The Crescent are open. Please be aware that there are no hand-washing facilities at our sites and it is impossible to keep all fences/gates etc sterile. Please therefore take sensible precautions such as using hand sanitiser, avoid touching your face and access the land through the open sides instead of using the kissing gates. Please also ensure that you follow the government guidelines in place at the time regarding social distancing and the number of people that you can meet. A copy of the latest guidelines can be found here:
https://www.gov.uk/government/news/coronavirus-guidance-on-access-to-green-spaces?utm_source=abe6e712-5803-402f-bec0-c58fef830e1a&utm_medium=email&utm_campaign=govuk-notifications&utm_content=immediate
Bus Shelters – please remember to maintain social distancing and stand 2m apart from other passengers whilst waiting for the bus. Please utilise hand sanitiser regularly or following contact with seating etc. From 15 June 2020 you must also wear a face covering/mask when using public transport. Full government guidelines for the safe use of public transport can be found here: https://www.gov.uk/guidance/coronavirus-covid-19-safer-travel-guidance-for-passengers
Community Car Scheme – Please check with the hospital/surgery if your appointment is still taking place and if they can allocate you hospital transport (where you may be able to maintain the 2m distance from your driver). If you still require assistance reaching your appointment, please contact the Car Scheme on 01296 767116, we may be able to help (with additional safety measures in place) or may have alternative options if we are unable to help.
If you have received a shielding letter, you can also contact Buckinghamshire Council's community support hub, as they are able to arrange transport to medical appointments for the shielded via their re-purposed school transport network, which enables you to maintain the 2m social distancing measure to protect you better than a local car.
Please remember that you are required to wear a face covering in all hospitals and GP surgeries, and also throughout your journey, so make sure you have a covering/mask with you.
Planning Applications – All consultations received will be posted online via our website/facebook/twitter feed. We also publish details of all planning application consultations in our agendas which are published on our noticeboards/website/facebook/twitter feed. If residents wish the parish council to take their views into consideration when submitting our own comments, they can send them to us via email. We will also hold virtual planning committee and full council meetings to enable residents to provide their views to council orally if they wish and log-in details are published with each agenda.
Please keep checking back for further updates on other services as the situation is changing every day.