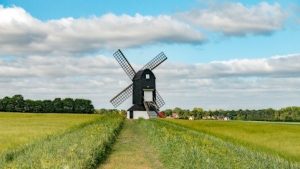 Pitstone Windmill is the oldest post mill in the country – We need volunteers to tell the story of this ancient landmark and the part it played in its rural community – from the intricate way the mill worked, to the history of the people who worked there.
Pitstone Windmill will be open to the public on Sundays and Bank Holiday Mondays from
5 May – 26 August from 10am – 4pm.
We are looking for volunteers to work either 9.45am – 1pm or 12.45pm – 4pm.
Training will be provided for everyone who volunteers so you don't need to be an expert! We don't expect anyone to be word perfect, enthusiasm and approachability are far more important. Volunteers who have made a significant contribution of time during the year (50 hours) will be eligible for a Volunteer Card. We understand that as volunteer shifts are short it may be a challenge to reach this 50 hours milestone at the Windmill alone. There are a number of other volunteering opportunities across the Ashridge Estate such as outdoor engagement, sharing the story of the Bridgewater Monument or event volunteering.  This card gives you free entry to National Trust, National Trust for Scotland properties. If you are already a member of the National Trust you can use the card to get free entry for a guest who is visiting with you. Additionally it gives you a discount in National Trust shops, restaurants and tearooms
If you are interested please contact: helping.ashridge@nationaltrust.org.uk