County Councillors news report July 2014
Prevention Matters – a little bit of help to stay independent and active. This is a Bucks county Council service for all adults, but mainly older people, who may be wondering how long they can maintain their independence, maybe after an illness or longer term, are feeling anxious, lonely or isolated, or find it difficult to get out and about. For more information call 0300 666 0159 or email admin@preventionmatters.org.uk. I have left some leaflets in the Beacon Villages Community Library.
Ringshall Road closed by badgers at Trust cottages. The road has been closed since mid June and is due to re-open mid July as the carriageway outside Trust Cottages collapsed into a badger sett! (Not sink holes as some might think)! A license to repair the subsidence is needed from Natural England and an expert will be on site for the repairs. Is this another first for Ivinghoe Division?!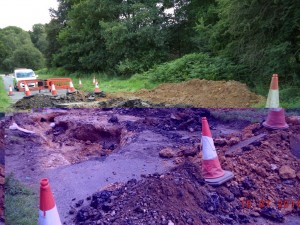 More change at Bucks CC – new cabinet member for Transportation Ruth Vigor-Hedderly has instigated a thorough overhaul of the way Transport for Bucks delivers it's services, particularly maintenance and grass cutting, by returning to area depots and local responsibility. She is trying very hard, right down to retraining all operatives on quality pothole filling, and we hope she will be successful. This is against a background of continuing change at senior management level. Meanwhile we must continue to place our trust in Clifford Marshall and Rob Anderson as the first port of call. I have asked her to consider adopting the Plantlife verge cutting regime as campaigned for by Alan Tichmarsh http://www.plantlife.org.uk/roadvergecampaign which she will be investigating as I think this could be a winner all round for the rural cuts and junction safety.
Planning – The AVDC planning committee on 18th June agreed by 5 votes to 4 that they were minded to approve an outline application for 40 houses behind Rushendon Furlong subject to conditions to be agreed by officers, despite Pitstone Parish Council and local residents making a strong case with high quality presentations to the committee, to uphold the policies still relevant from the old local plan, followed by a long debate on the value of those policies, the footpath, drainage, and landscape. The committee resolved ' that the application be delegated to the Development Management Manager to determine, subject to the satisfactory completion of a Planning Obligation Agreement to secure on site provision of affordable housing, financial contributions towards off site leisure, education and public transport provision, the provision and maintenance of an on site open space and a suitable SuDS scheme (drainage) and to secure a travel plan. Any approval to be subject to such conditions as the Development Control Manager considers appropriate or, if this cannot be achieved, refused for such reasons as considered appropriate'. At the same meeting a controversial application in Aston Clinton was also approved by 5 votes to 4 and I have since learned that since that meeting applicants have won an appeal for 40 houses at Stoke Hammond. Several other planning applications have been received – 40 houses on the edge of Edlesborough and 40 on the edge of Great Horwood, and a further application for 90 houses has been submitted in Aston Clinton. Ivinghoe is anticipating an application for about 80 houses.
Avril Davies
County and District Councillor