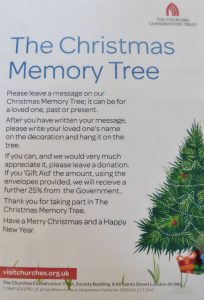 This year the Friends of Pitstone Church will be holding their third Christmas Memory Tree event.
As both previous ones have been dogged by bad weather, the event will take place on two Sundays, the 2nd and 9th December, 12 to 4pm.
The choir will be singing at 3pm on 2nd.
Come and visit the church to include someone you like to remember on our tree, enjoy the decorated church and sample our mulled wine and mince pies.
A warm welcome is promised to all.
Donations will be welcome towards the upkeep of our beautiful church.