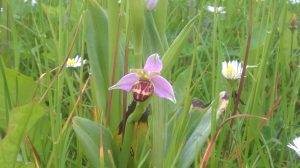 The orchids have started to come into flower, so please do come up to Westfield Road by the Warwick Road turning to see them.
Last winter we counted nearly 300 small plants which we thought were bee orchids over the whole of Castlemead estate and chose to protect the 3 areas where the fledgling plants were in the greatest quantities.  We are delighted to say that over 100 bee orchids and 9 pyramidal orchids are currently flowering or in bud in these areas.  To see such a large quantity in such a small area is quite rare.
As well as the orchids, there are also an abundance of other wildflowers in these plots which have attracted butterflies and insects to the area including the rare small blue butterfly, so look out for them too.
If you are new to orchid spotting, you may like to start at the entrance to Warwick Road on the left hand side.  Once you've spotted a few, you'll soon be able to identify them and then you'll see plenty of plants along the Westfield Road path and throughout the protected areas.  Feel free to walk amongst the grass so you can get up close, but please be careful where you step.
We hope that all our residents have enjoyed the wonderful displays of flora and fauna and would like to thank the local households for their patience with the lack of grass cutting in these 3 patches (cutting will resume on 18/7/16).