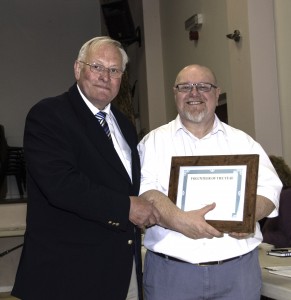 Pastor Dave Clifford has been instrumental in a number of local groups including co-ordinating and driving for the Community Car Scheme, running the Silver Surfers Club and organising the Souper Lunches.
Dave Clifford was presented with his certificate and cheque at the Pitstone Annual Assembly on 21 April 2015.
A huge thank you to Dave from both the members of Pitstone Parish Council and all the residents who have had the pleasure of benefitting from his work.  Dave will be missed when he leaves our community in the summer, and he is still looking for volunteers to fill his shoes and help keep these important community facilities running.  If you can help, please do get in touch.
There are many people in our village that give up lots of their time to help other residents or community groups.  If you know someone that deserves a special thank you, please send their details to the parish clerk so they can be considered for the 2016 award.  The winner is presented with a framed certificate and cheque at the Annual Parish Assembly and is also entered into the AVDC Volunteer of the Year scheme.