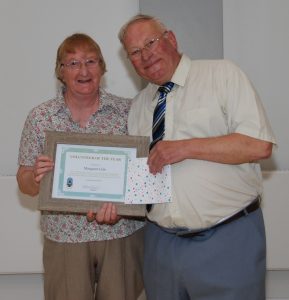 Margaret came to the village in the 1960s and has held numerous volunteering roles within Pitstone throughout that time so we are sure that you will join us in recognising her devotion to our community.
Margaret currently runs the Over 60's club, helps regularly at the Pitstone Youth Café, volunteers at First Thursday Friends, assists with the Festival of Art & Flowers at St Mary's Church in Pitstone and is a volunteer driver for the Pitstone Community Car Scheme.
A huge thank you to Margaret from both the members of Pitstone Parish Council and all the residents who have had the pleasure of benefitting from the endless hours of time that Margaret has contributed.
There are many people in our village that give up lots of their time to help other residents or community groups.   If you know someone that deserves a special thank you, please send their details to the parish clerk so they can be considered for the 2018 award.    The winner is presented with a framed certificate and cheque at the Annual Parish Assembly and is also entered into the AVDC Volunteer of the Year scheme.