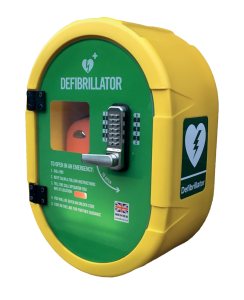 Come along to free training session
Our grateful thanks to the South-Central Ambulance Service who have agreed to come along to the Charity Football Match and Opening Celebration at the pavilion site on Sunday 29 July from noon til 3pm to provide free training on the use of the defibrillator to all the attendees. The charity event and the training are both free to attend. Do come along as see how easy the equipment is to use, and so that you are familiar with the equipment in case you should ever need it.
Where are our defibrillators?
A third emergency defibrillator is now active in the parish – this unit is located on the outside front wall of the Pitstone Sports Pavilion on Marsworth Road (opposite the junction with Westfield Road) and can be accessed via the pedestrian gate. The other two defibrillators are located at Pitstone Memorial Hall in Vicarage Road and the Village Health Centre in Yardley Avenue.
Why do we need emergency defibrillators?
Sudden Cardiac Arrest (SCA) does not give warning symptoms like a traditional heart attack. The heart goes into an unstable rhythm called ventricular fibrillation, the heart stops beating effectively, and the person becomes unconscious. Less than 30% of the time someone will do CPR on a victim, which does help buy time. However, CPR alone cannot put the heart back in normal rhythm, only a defibrillator can. You lose 7-10% chance of surviving each minute you are in SCA and an emergency ambulance from Stoke Mandeville can take up to 20 minutes to arrive. Only 8.3% of victims survive neurologically intact because emergency medical services simply cannot get to the victim and shock them in the four to six minutes before brain damage occurs.
Do you need to be trained to use the defibrillator?
No. Dial 999 as soon as the patient is taken poorly. The emergency services will dispatch an ambulance and if appropriate, provide you with details of the nearest defibrillator. The operator will stay on the line and talk you using the equipment. The defibrillator itself also gives you voice commands to talk you through the process. The defibrillator will only shock the patient if it first detects abnormal rhythms that can be treated via shocking, so you don't need to be worried about hurting the patient or causing any damage.
However, we have offered community training events on the use of the defibrillators in the past and the next event is on 29 July 12-3pm at the pavilion. We hope that all residents will take the time to attend an event and familiarise themselves with the equipment so that it does not seem as daunting in the event of an emergency.