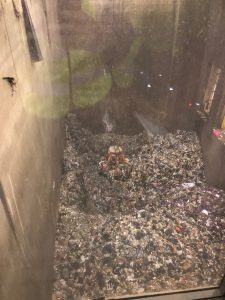 On Monday 18 th February, Pitstone Parish Council took the opportunity to take a guided tour around the Greatmoor Energy from Waste Facility based in Aylesbury. The facility covers the whole of Buckinghamshire and some surrounding areas such as North London. Operated by FCC, Greatmoor sustainably manages the disposal of Buckinghamshire's household waste by diverting it from landfill to turn into electricity. More than 25 megawatts of energy is recovered from the process of burning
waste which is enough to power 40,000 homes in Bucks.
How does it work?
The facility processes 110,000 tonnes of household (non-recyclable) waste and 235,000 tonnes of trade/commercial waste from bodies such as local authorities. The waste is collected in articulated lorries – using the most efficient vehicles with low emissions and they take the shortest distances from A to B to save fuel.
The waste processing site is enormous! The waste is dropped into a 23 metre deep bunker, a huge grab crane picks up the waste, dropping it into a grate where it burns at approx. 1000 degrees Celsius for 2 hours. The grate moves mechanically turning the waste to ensure full combustion. The grate is 10m x 12m making it the largest single-line facility.  The thermal energy from the combustion process is used to heat a boiler to produce high-pressured steam (400C and 50 bar pressure) that is fed to a turbine for the production and export of 25 megawatts of electricity. Sufficient to power 18% of all Bucks homes.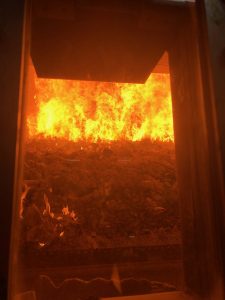 Emissions Treatment and Monitoring
Gases and fly ash generated from burning the waste passes thought a chemical neutralising system using ammonia, lime and activated carbon, cleaning the emissions. After chemical treatment the flue gases pass into the bag house filter, containing nearly 3,000 filter tunes, before leaving the 95m stack and entering the atmosphere. The emissions are monitored to ensure compliance with legislation and the requirements of the Environmental Permit are maintained. The emissions from the stack are 99% water vapour!
If you want to know more, or visit the UK's largest single-line energy from waste facility please visit: