Hedgehogs are in decline in Britain and are now listed as "Vulnerable" on Britain's red list of mammals. According to the latest State of Britain's hedgehogs report, numbers of hedgehogs have fallen by up to 30% in urban areas and 50% in rural areas since the Millennium.
There are a number of ways that you can help. One of the best things you can do for the local Hedgehog population is allow them access in and out of your garden. A 12cm x 12cm hole is all they need. Encourage neighbours to do the same. Why not frame your access hole with one of our Hedgehog Highways!
This gap allows hedgehogs to:
* Forage for food
* Meet mates to breed
* Access nesting sites
Why should I get a Hedgehog Highway Surround?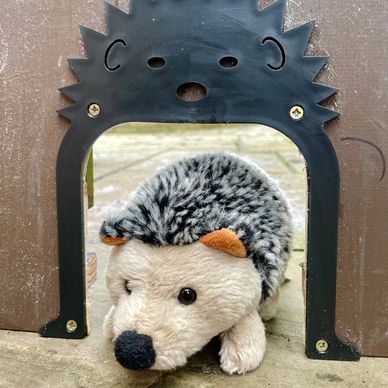 1. You must admit, they look super cute!
2. They raise awareness to hedgehogs' struggle for survival
3. They create a talking point, encouraging others to create a highway of their own and take part in the project
4. Hedgehogs R Us donate money from all the units the parish council buys to help the rescue of sick and injured hedgehogs
You can order your hedgehog highway surround (£5 each) from the parish council. You'll receive your surround and a leaflet giving details of how to help the hedgehogs. You can arrange collection or we can deliver (Pitstone only). Payment accepted via cash or bacs transfer. Please contact us on:
Telephone: 01296767261
Email: parishclerk@pitstone.co.uk
Send us a message via our social media channels
Pop in to one of our meetings at the pavilion, or call round to 9 Warwick Road, to buy direct (cash only)
There is lots of other advice on how to make your garden hedgehog friendly, on the Hedgehogs R Us webpage, including:
creating wildflower areas
making your pond safe
keeping your garden netting and rubbish free
stop using chemicals
put out suitable food and water
providing a hedgehog house and
checking before you strim
Link available here: https://hedgehogsrus.co.uk/helping-hedgehogs