The Parish Council has long aspired to redevelop the leisure facilities on the land adjacent to Pitstone Memorial Hall.  This process has been complicated by a series of land and charity issues, as the land is not currently owned by the parish council.  We hope that these issues will be resolved in the near future, and in preparation, we are undertaking some initial ground-work at the site.
An illustration of the play space selected by the community and for which we already have planning permission is below.  The bulk of the old play equipment will be removed at the same time as the new equipment is installed.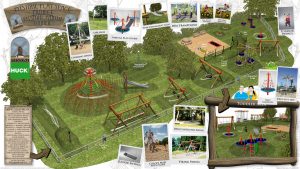 It was originally hoped that an access path the new facilities could be provided along the far side of the hedgerow, but this is no longer feasible and the first section of the access path will now be installed on the recreation ground side of the site.  This will provide safe dry access to the site for pushchairs, wheelchairs and pedestrians and will be extended as the new facilities are installed (but currently won't reach the entire length as construction vehicles require access at either end).
For safety reasons, the kicking goal unfortunately needs to be temporarily removed.  As part of the residential development around the hall, the developer is installing a new
multi-use ball court (illustration below), for which they have planning permission.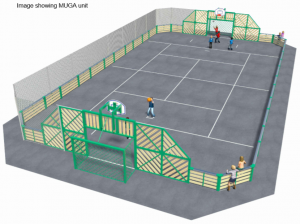 The youth shelter unfortunately needs to be temporarily removed as this area needs to be cleared for the new play equipment and access is required.  It will be stored so that it can be re-installed at a future date.
There remains an ambition to install a concrete skate park between the ball court and the play space.  Procurement for this can only commence once the land is within our
ownership.
We will keep residents updated with progress and apologise for any inconvenience caused by these initial works.