Do you have a problem with dog fouling outside your property?   Apply to the parish council for one of our new stickers: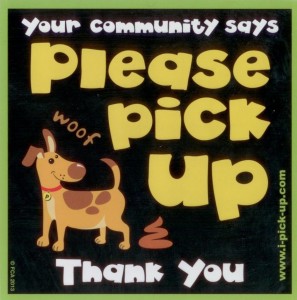 These waterproof 11cm square self adhesive stickers can be affixed to fences, windows and gate posts.
The parish council continually receives complaints about residents that allow their dogs to foul our footpaths and permissive paths, especially along Marsworth Road, Vicarage Road, Queen Street and all the permissive footpaths by Pitstone Windmill.
The parish council already provides 14 dog bins around the village, which have more than enough capacity to contain all the deposits from the canine population.
The AVDC dog warden is able to impose a fine if an identified dog is known to have fouled the footpath.
Together we can help clean up our neighbourhood.   Help us spread the word that dog fouling on our paths will not be tolerated.  If you would like one of these stickers, please contact the parish clerk (parishclerk@pitstone.co.uk).