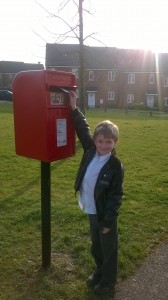 We are delighted to say that Royal Mail has now installed the new post box on Windsor Road by the children's play area and it was made operational today.
Collection times : 4.45pm Monday to Friday and 9am Saturday.
Our thanks to Gary Plummer at Royal Mail for his assistance with this project over the last 24 months.
Laurie Eagling, Clerk to Pitstone Parish Council