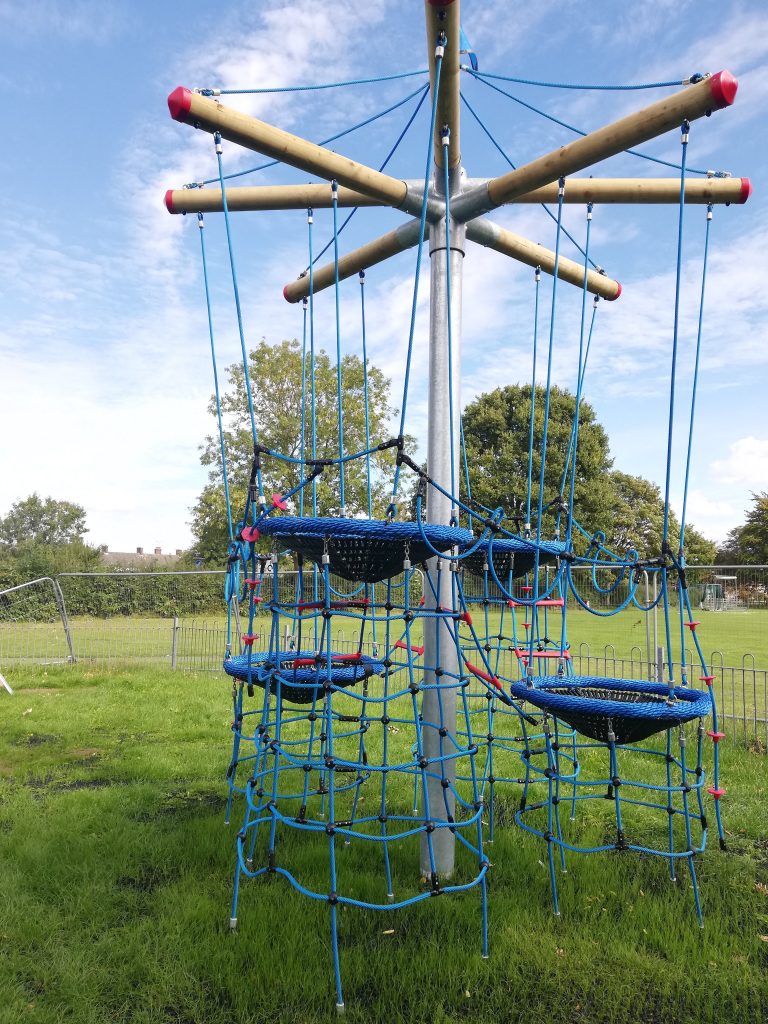 The exciting new play space by the Recreation Ground opened on 10 September and we hope that you are all enjoying all the new equipment.   It has certainly been very busy. This area has been designed as an inclusive play space so that everyone can play together, regardless of their age or ability.  You will find a range of play features suitable for toddlers through to teenagers, incorporating a significant number of items that are suitable for a range of disabled use including swings, sunken trampoline, springers and wide slides to allow carers and children to travel down together.  It also incorporates visual and textual surfaces and colours to stimulate and assist those with visionary difficulties.  We would love to know what you and your children think of all the new equipment, so do let us know via email, Facebook or Twitter.
If your children are old enough to be out playing by themselves, please remind them to socially distance when using our playgrounds and to sanitise their hands before and after using the equipment.  It has also been sad to see the huge volume of litter dropped in the new play space, including used nappies as well as food & drink.  Due to the ongoing pandemic it is particularly important to ensure that you and your children make use of the bins provided, for the health and safety of all users and staff.  You should also note that the government guidelines advise that you do not eat or drink whilst using playgrounds as this increases the risk of putting the virus straight into your body.  Signage on all our playground gates advises users of this & the need to use bins for tissues etc.  Your amazing new play space has cost over £120k, so please take a pride in it so it can be a fun & safe place for our children.
The smaller playground in Tun Furlong at the far end of Vicarage Road is also now open.  This features a range of equipment particularly suitable for the younger to mid aged groups.  Bellway are arranging for this to be maintained for a period of 24-months by a maintenance company before transferring to the parish council at the end of that period.
The flat seat swings at the Windsor Road playground suffered a frame failure and have been removed for safety. New sets of swings for this playground are being procured so that full play can resume as soon as possible.
Nicholas King Homes are providing a multi-use ball court as part of their planning permission.  This will be located on the parish council owned land at the end of the car park by the Recreation Ground.  They currently anticipate that this will be complete by spring 2021. 
A concrete skate park is still planned for the area between the multi-use ball court and the new play space.  Tendering will commence shortly and we hope that this will be installed during the summer of 2021.  We will keep residents updated.
Between the four play spaces in Pitstone, we feel that there are lots of experiences and opportunities for the less able children in our community, however if you have a disabled child with a special need that is not currently being addressed, please do let us know.