The government permits children's outdoor playgrounds to re-open from Saturday 4 July 2020.  The latest studies show that the coronavirus germs do not live for as long outside where they are exposed to UV light and/or rain, however they can still survive for several hours.  It is not possible to clean equipment between users in a freely accessible outdoor play space environment.  Any germs left behind by the last users may remain active.  Therefore it is important that all users maintain social distancing and good hygiene, for the safety of your family and other users.  Be prepared that playground use may not look the same as it did before Coronavirus.
The Hever Close and Windsor Road playgrounds have been fully safety checked and prepared for re-opening.  They will be re-opened on Saturday 4 July 2020.  Please give us a little time to get around and carry out our final checks.
You will find important safety signs on each gate.  These help you to follow the government's guidelines for safe use of the play space.
Do bring anti-bacterial wipes and hand sanitiser with you.  Don't bring any food or drink as consumption in the play space is not currently permitted.  Make sure young children are supervised to help them play safely.  Both play areas are small, so to reduce the number of people inside the playground please limit your group to 1 supervising adult and no more than 3 family groups where possible.  If it is busy, please come back later, or wait well away from gates and footpaths.  Be considerate of children that might be waiting, and limit your play time to 20 minutes if the play space is busy.
The playgrounds may be particularly busy in the first few weeks.  Please prepare your child, before you leave home, that you may have to wait or come back later so they are not too disappointed.
Please do not visit the playground if you, or your child, have symptoms of Coronavirus.
See the sign for further details.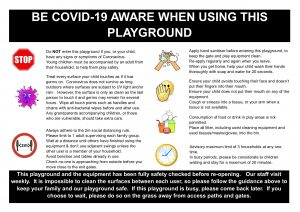 The Recreation Ground playground will remain closed.  We have contractors arriving on Monday 6 July 2020 to remove all the old playground equipment and install the new play space.  The old site has not been safety checked, no maintenance has been carried out and the site has not been made covid secure.  For the safety of our users and of the contractors arriving on Monday, this play space will not be open on 4 or 5 July.   Please respect the signage and remain out of this play area.
The contractors site compound will be situated at the end of the Recreation Ground car park.  Please be aware that parking will be limited for the next 8 weeks and that there will be increased vehicle movements up and down the car park.
A reminder of the new play equipment that is being installed is below.   We look forward to inviting you to try out the new space once it is complete.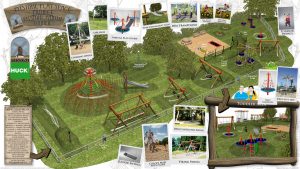 Nicholas King Homes (NKH) will be installing multi-use ball court on the land that is currently the bottom of the Recreation Ground car park, and providing replacement adjacent parking, as part of their new development.  Once NKH provide us with any visibility of dates, we will let you know.