You will be pleased to know that the first of the wild orchids are now in flower along Westfield Road, so do spare a moment to walk along the verge in front of Safran and the verge opposite Tunnel Way.
Lots of bee orchids in flower already (especially in front of Safran) and a few pyramid orchids.  More will come into flower over June and July.  Do also look out for the blue butterflies enjoying the wild flowers on the banks in front of Safran.
(For clarity, a revised plant count showed that the fledging orchids in the originally anticipated area at the end of Warwick Road had reduced to an insignificant volume, and a number of nearby residents had complained about the temporary suspension to grass cutting.  Therefore, it was agreed by all parties that the suspension could be lifted and the grass cut in this one area.   The updated count showed that the number of fledgling plants by Safran and the verge opposite Tunnel Way were still evident in sufficient volumes to continue with the preservation.)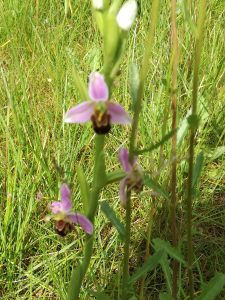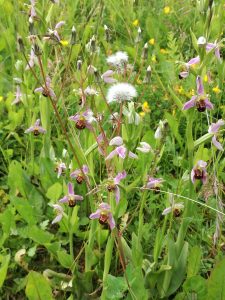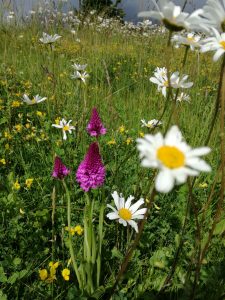 Our thanks to Aylesbury Vale District Council, Bucks County Council, Taylor Wimpey and their contractors TDS and Dreamview for their support.
If you would like to see more orchids, you can walk around the old quarry site (now wildflower meadow) on the left hand side of Westfield Road where there is permissive access in place.  Or you can visit Pitstone Fen by booking onto a tour or collecting the keys from College Lake – see their website:  http://www.bbowt.org.uk/collegelake