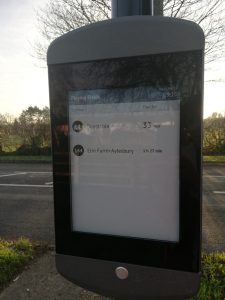 We are pleased to report that the forth real-time-information panel has now been installed at the bus stop located near the Local Green Space on Marsworth Road.  All four units are now working and displaying live departure information.  The buses are fitted with GPS which feeds into the system to provide up-to-date travel information.  No more waiting around wondering how late the bus is running, or whether it has already gone, as you'll be able to see at a glance.
The four units are located at the following bus stops:
Travelling towards Dunstable:

The bus shelter by the Local Green Space on Marsworth Road, in front of The Crescent
The new bus shelter on Marsworth Road, by the junction of Rushendon Furlong

Travelling towards Aylesbury:

The bus shelter almost opposite Masons store, between Queen Street & Albion Road, on Marsworth Road
The bus shelter outside the Recreation Ground, on Marsworth Road
The information panels have been provided by the housing developers off Rushendon Furlong and Vicarage Road, and are owned and managed by Bucks County Council.