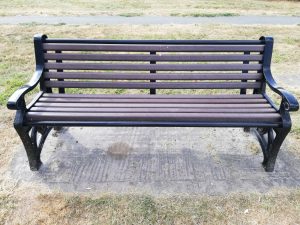 The parish council is looking to purchase two additional benches to install in the Local Green Space between Marsworth Road and The Crescent, so that more people can sit within the shade of the trees and enjoy this quieter open area.
The current bench was funded and donated by the Young Farmers a number of years ago and displays a plaque to commemorate this.
The new seats will duplicate the one currently installed at the end of Glebe Close (pictured above), which has 100% recycled cast aluminium ends with Amortec coating and strong recycled material slats to provide a strong, durable,  low maintenance, disability compliant bench which will last for many years to come.
There is an option for these benches to be supplied with laser etched stainless steel memorial plaques with your choice of dedication or wording (see illustrations below), and therefore the council would like to give residents the opportunity to sponsor a bench in this manner.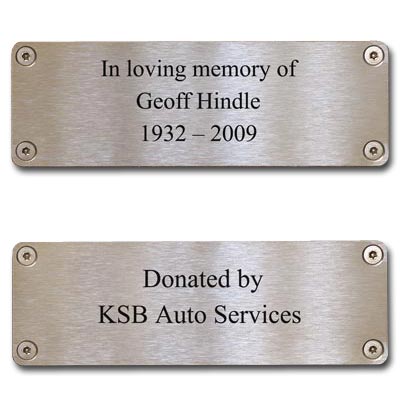 One bench with memorial plaque costs just over £1,000.
If you are a local company who would like to sponsor a bench in return for your company details on the plaque and publicity by the parish council, or a local family who would like to sponsor a bench in memory of a loved one, then please contact the parish clerk on 01296 767261 or parishclerk@pitstone.co.uk by Monday 13 August 2018.