The Parish Council has ambitious plans to update and extend the sports and leisure provision within the parish.
Purchase of land
The rear part of what appears to be the Recreation Ground (housing the play area, cricket nets and part of the football pitch) is actually owned by a separate charity.  The parish council is trying to purchase this parcel of land, to protect it for leisure use in perpetuity.
The charity commission regulations prohibited the disposal of this parcel of land until after planning had been granted for the Pitstone Development Area, so the council is hoping that the charity will now be open to negotiating and progressing.
New play space
As soon as the land can be secured, the first phase of the village leisure enhancement program will see the removal of the old playground equipment from the recreation ground (some of which is now 30 years old) and the installation of a new and challenging play space for children of all ages.   Details of the scheme for which we have planning permission can be found on our web site and is illustrated below: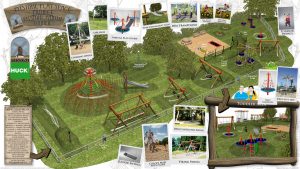 Some initial ground & preparatory works have taken place.
Skate park
We also hope to install a concrete skate park to be located between the new play space and the multi-use games area being installed as part of the village centre development.   Work will start on the procurement of this once the land has been secured.
The council holds some grant funding towards these projects.
Multi-use Ball Games Court (MUGA)
The parish council has provided some land at the far end of the Memorial Hall car park and a MUGA will be provided by the developer of the residential are around the Recreation Ground along with additional parking and footpath access through to Castlemead.  They have planning permission for the court illustrated below: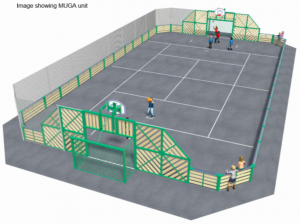 We have not yet been advised of an installation date.