The Parish Council is working through ambitious plans to update and extend the sports and leisure provision within the parish.
Purchase of land
The rear part of what appears to be the Recreation Ground (housing the play area, cricket nets and part of the football pitch) was actually owned by a separate charity. The parish council has been able to purchase this parcel of land, to protect it for leisure use in perpetuity.
New play space
Once we had completed the purchase of land, the first phase of the village leisure enhancement program began. The old play equipment was removed and a new and challenging play space for children of all ages installed by Huck Teck, who had previously won the tendering contract. The design had been subject to extensive local consultation and was the play space favoured by the local children.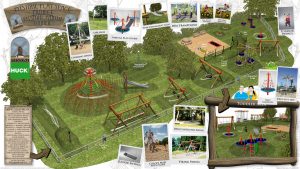 Multi-use Ball Games Court (MUGA)
The parish council has provided some land at the far end of the Memorial Hall car park and a MUGA has been provided by the developer of the residential are around the Recreation Ground (Nicholas King Homes) along with additional parking and footpath access through to Castlemead. They have planning permission for the court illustrated below: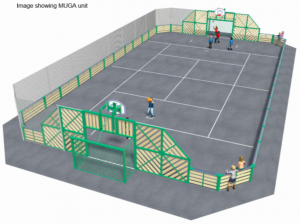 Nicholas King Homes have now constructed a ball court and the replacement car park but there are a number of ongoing negotiations with the developer and these have not transferred to parish council ownership yet.
Skatepark
The young people of the village had been asking for a skatepark for about 20 years but this could not be provided until the leisure land had been purchased and the old play equipment removed. Our new skatepark opened in March 2022.
It has been designed to allow for the maximum number of users and disciplines for those participating in the wheeled sports, but landscaped so that (once the grass grows) it does not appear intrusive when viewed from across the recreation ground.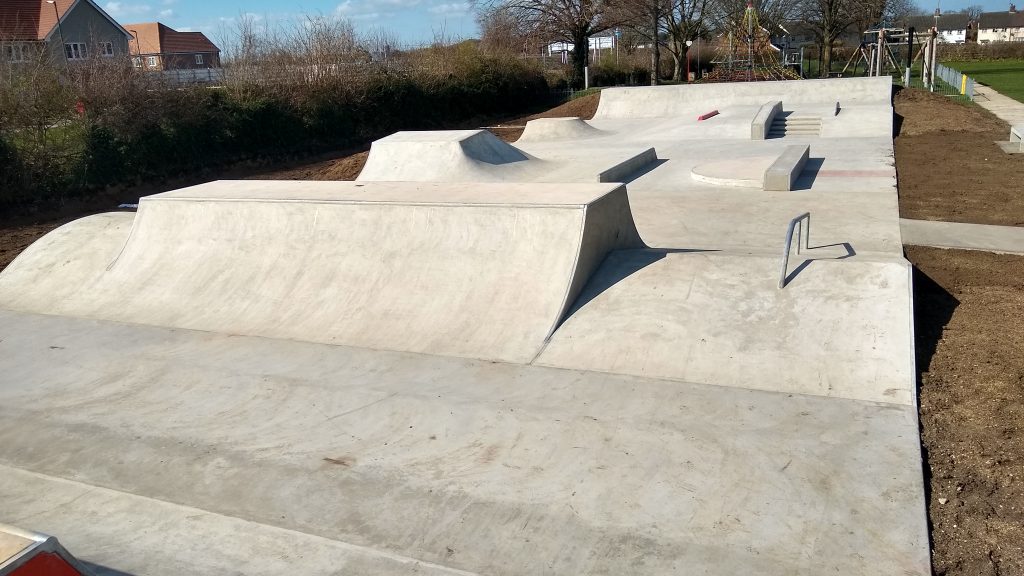 Cricket Practice Nets
The parish council is working jointly with Ivinghoe and Pitstone United Cricket Club to provide a new open-access double lane cricket practice net facility. Funding has been secured and the order placed. We are waiting for an installation date from the supplier, latest estimate spring 2023.
Neighbourhood Equipped Area of Play (NEAP)
By providing ball sport, wheeled sport and play facilities for all ages our old Local Equipped Area of Play (LEAP) becomes what is classed as a Neighbourhood Equipped Area of Play (NEAP) which means that it provides a range of facilities that the whole family can enjoy together.
In the summer, families can bring down a picnic and all the members of the family can enjoy free physical activities from the one central space in the heart of the village, which also provides benefits for everyone's physical and mental wellbeing.